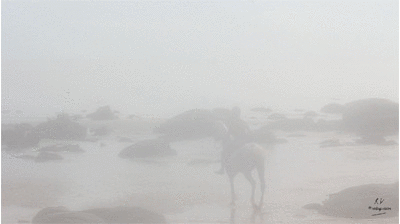 Out of the Fog, 21min
I let the rider ride. I set up a spectacle ("I" not being a less speculative claim than "spectacle"). Everywhere (prism-like), are uncounted drum-like cylinders (to use an image) with reflecting surfaces autonomically revolving around themselves, deflecting the light from all the other cylinders. The wobbling "man with the movie camera" is just one of these revolving cylinders in this beach-scape. There is no relationship between them – none. Out of the fog is being recorded just after sunrise. Coming out from the cold into the warm, the glasses of the camera are foggy when starting recording. During the video, the fog on the glasses is slowly fading away. Speaking of revolving cylinders, the earlier work Distant Riders consists of a larger-than-life model of a zoetrope, a revolving cylinder with vertical slices on it, one of the first cinematographic devices.

HD Video
Riding skills: expert
Duration: 20:35 min.
Size: 1.6 GB
Frame: 1280x720
Filetype: mp4
Sound: 100% live
No refunds for digital downloads.