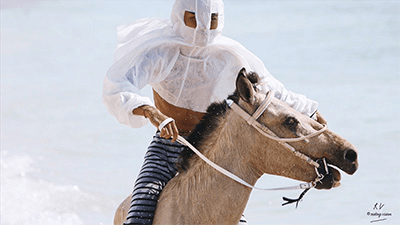 🌶️ Dodik – Dangerous (4K), 10min
Dodik is a very energetic rider with a strong mind of his own, so we improvised some kind of Ninja riding costume together with him, that would be dangerous looking, or so we thought. As a variation, in the last part of the video he rides with a painted face in a fire-red hoodie. There is a subcultural aspect of rebellion and free expression many of our male riders feel on their ponies, that we like to bring to life with them.
4K Ultra-HD Video
Riding skills: expert
Duration: 10:07 min.
Size: 1.28 GB
Frame: 3840x2160
Filetype: mp4
No refunds for digital downloads.