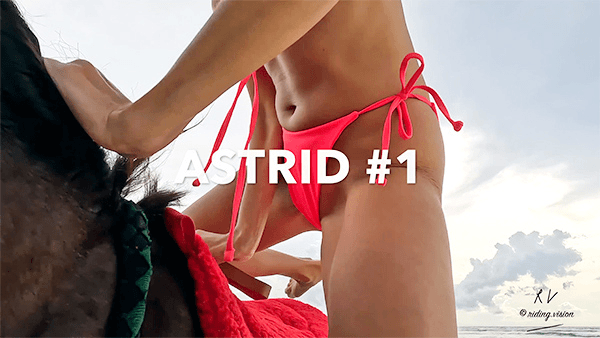 NEW 💯 June 2023! Astrid #1 (4K), 13min
Astrid #1 

Astrid reminds us a lot of our old and long time favorite riding model Elena. Like Elena, Astrid emanates pure sensuality and elegance and an irresistible air of pure freshness. She used to ride a shetland pony in her childhood, and working with us was a re-awakening and a dream come true for her. Over several days, we gave her unlimited time to practice her favorite move at our pristine tropical beach setting – making her horse rear up! To be honest, she became quite obsessed with it. So much, that the hours went by like the changing if the tides. What is more, is that we kept all the natural sound in our videos with her.

In this first video with Astrid, she is just getting startet. Don't expect any fancy fast riding here (yet) – but tons of intoxicating beauty, captured by three different cameras in ultra-high resolution from the most thrilling and often very unusual angles. Also as usual a lot of work was put into the editing, with a keen eye for all the subtleties.

4K Ultra-HD Video, original sound
Riding skills: medium
Duration: 13:12 min.
Size: 1.65 GB
Frame: 3840x2160
Filetype: mp4
No refunds for digital downloads.